Caption for image (above): Shameran Abed, Executive Director of BRAC International, joins others at UNFPA's side event "Building an Equitable Future through Women-Centric Innovations: Equity by Design in Action". PC BRAC.
After a week of discussing the status of the Sustainable Development Goals (SDGs) and the lack of progress at the United Nations General Assembly 78, it was difficult to walk away without feeling discouraged. While there was consensus that poverty and climate change are among our most pressing issues that require immediate action, few key actors provided concrete next steps on how to tackle them. This problems-focused discourse unsurprisingly led folks to question if the SDGs are too ambitious and if we are destined to fail. 
"The numbers don't look good, but there are a lot of solutions that we know work," said Shameran Abed, Executive Director of BRAC International. "We need to galvanise political will and scale what works. While we need to innovate continuously, there's a lot of innovation already out there." He stressed this during an interview with Raj Kumar, President and Editor-in-Chief at Devex's UNGA side event "Pathways out of Poverty".
"One of the main issues we focus on at BRAC is ending extreme poverty because we believe it is within reach," said Abed at the Clinton Global Initiative's side event "Stronger Communities, Stronger Economies". Despite the setbacks caused by recent crises, the development community has made significant progress in the last 30 years, equipping millions of people to escape poverty. We can regain lost progress and achieve SDG 1 in the next 10-20 years if we move away from short-term piecemeal programming to bold, integrated, community-led solutions. 
"How you design and deliver programmes is more important than where the resources come from," Abed said during his Devex interview. "At BRAC International, we focus on how we take the learnings of our programmes and the ethos of how we work and bring them to communities, adapting them with those communities – particularly the women who are most affected – to address their specific needs. We believe this will deliver a higher impact." 
"People living in the deepest state of poverty need more than cash," he continued. "They need a bigger investment to escape the poverty trap. Once you do that with other wraparound services, even the poorest of the poor can put themselves on a pathway out of poverty."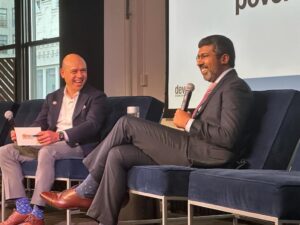 One such big push investment is the Graduation approach — a Global South-led approach combining the transfer of a large productive asset, coaching, and support — which has sustainably alleviated poverty in many different settings. Abed and Nobel Laureate Economist Esther Duflo highlighted the extensive amount of evidence that demonstrates Graduation's ability to put people on a pathway out of poverty in their recent op-ed.
According to Abed, the following have been critical to the success of BRAC's multifaceted, integrated, community-led efforts, including Graduation programmes, which he shared during the United Nations Population Fund's (UNFPA) side event "Building an Equitable Future through Women-Centric Innovations: Equity by Design in Action":
Prioritise those furthest behind.

We need to be intentional about who we are reaching, especially the most vulnerable women. "There is no development without gender justice," and the majority of the 600-700 million people living in extreme poverty are women in the deepest forms of poverty – more than just a lack of income. 

Co-create with those most affected.

We must work closely with the communities we serve and understand the differences in each context to address the social and economic needs of those furthest behind.

Learn by doing. "For us, it's important to learn by doing. It's okay to know that we don't have all the answers. We go in with humility and know that as we work with the communities we aim to serve, we will figure it out."

Amina Muema, participant in the PROFIT Financial Graduation pilot, building a livelihood as a tailor in Kenya's Kitui region. PC BRAC.

Scale what works. "If we take the evidence and learnings of proven, multifaceted approaches and apply them to large-scale government programmes, we can achieve lasting change," Abed said in his Devex interview with Raj Kumar. BRAC International is scaling proven, multifaceted approaches like Graduation across Africa and Asia through direct programming and as a catalytic partner with governments. Eradicating extreme poverty is within reach, but "it requires scaling through governments," said Abed. "The issue isn't that the money doesn't exist. Even countries in the Global South are spending millions of their annual budget on large-scale government programmes. We are saying if we can get better programmes and better targeting, we can get them far more bang for their buck."
Collaborate across sectors.

In order to scale effectively, the whole industry is going to need to change, Abed noted. Development has become fragmented and

driven by donors

. "We react to donor calls and focus on compliance more than impact," he said. "We cannot solve problems at scale doing development like this."

We can get back on track to achieving the SDG 1, but we must do it through multisectoral partnerships

, intentionally focusing on those furthest behind, going deep with the communities we serve, and

bringing evidence-backed programmes to scale

.