Back to Resources
Building Climate Resilience for Women in Extreme Poverty: Adaptations and Policy Recommendations from the Government of Tunisia's Pilot Graduation Program
By Anu Kumar • December 1, 2022 • 3 minute read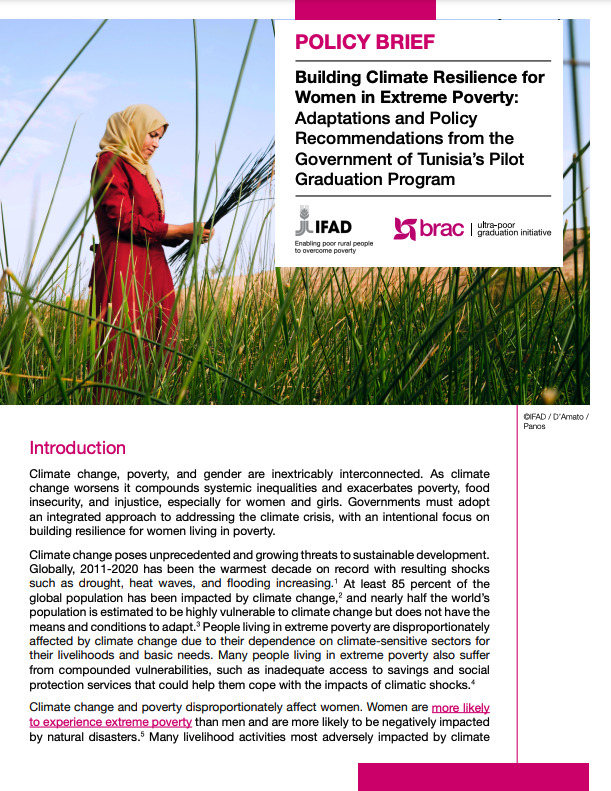 Climate change, poverty, and gender are inextricably interconnected. As climate change worsens it compounds systemic inequalities and exacerbates poverty, food insecurity, and injustice, especially for women and girls. Governments must adopt an integrated approach to addressing the climate crisis, with an intentional focus on building resilience for women living in poverty.
Climate change poses unprecedented and growing threats to sustainable development. Globally, 2011-2020 has been the warmest decade on record with resulting shocks such as drought, heat waves, and flooding increasing. At least 85 percent of the global population has been impacted by climate change, and nearly half the world's population is estimated to be highly vulnerable to climate change but does not have the means and conditions to adapt. People living in extreme poverty are disproportionately affected by climate change due to their dependence on climate-sensitive sectors for their livelihoods and basic needs. Many people living in extreme poverty also suffer from compounded vulnerabilities, such as inadequate access to savings and social protection services that could help them cope with the impacts of climatic shocks.
Climate change and poverty disproportionately affect women. Women are more likely to experience extreme poverty than men and are more likely to be negatively impacted by natural disasters. Many livelihood activities most adversely impacted by climate change – such as fetching water – traditionally tend to be women's responsibility. Moreover, UN figures indicate that 80 percent of people displaced by climate change are women and girls, and climate shocks reduce women's life expectancies more than men's on average. In addition, studies have shown that gender-based violence becomes more prevalent after natural disasters, and that women living in extreme poverty often face discrimination in accessing the resources, education, and tools necessary to bounce back from the economic impacts of climate change.
Countries in the Middle East and North Africa (MENA) region are particularly vulnerable to climate shocks such as water scarcity, rising temperatures, desertification, and population movement. These factors pose a range of harmful effects on land productivity, human health, migration, and gender dynamics. Tunisia will be among the 33 countries most likely to experience water stress or scarcity by 2040, which is expected to most acutely impact populations living in poverty, particularly women and farmers.
Policymakers must bolster their societies' ability to withstand and adapt to climatic stressors by designing solutions that respond to the relationships between climate change, extreme poverty, and gender inequality. Long-term solutions that build the climate resilience of the most vulnerable people are critical; however, many policies and initiatives designed to address environmental issues ignore or actively harm these groups. Women and people living in extreme poverty are often excluded from decision-making about responses to climate change, resulting in solutions that not only overlook their wellbeing, but may even harm the very populations that governments are aiming to protect.
According to the 2021 State of Economic Inclusion report by the World Bank, 57 percent of economic inclusion programs include interventions that address climate change as a way of protecting and enhancing the livelihood base of program beneficiaries, such as through climate-smart agriculture, water management, and forest protection activities.