By Courtney Calardo, Head of Communications, BRAC UPGI
Jean Claude Muhire, BRAC UPGI's Rwanda Program Director, has played a pivotal role in driving UPGI's partnership with the Government of Rwanda under the Ministry of Local Governance. Under Jean Claude's leadership, BRAC is now supporting the Government's new National Strategy for Sustainable Graduation, designed to empower people to develop sustainable livelihoods and establish a pathway out of poverty.
Jean Claude is deeply passionate about the work we do at BRAC. His commitment to poverty alleviation is personal, his efforts inspired. Learn about how and why he got involved in development in our Q&A below.
Jean Claude, can you tell me what compelled you to build a career in poverty alleviation?
My parents went to the Democratic Republic of Congo when they were kids back in 1959 due to conflict in Rwanda and lived there as refugees. I was born there. We actually lived – I personally lived – in poverty. 
I remember when I was young, we only had one chair at home. We had barely one or two pairs of clothes. We lived in this small house with glasses on the roof. And growing up in that life, I always thought there was something missing.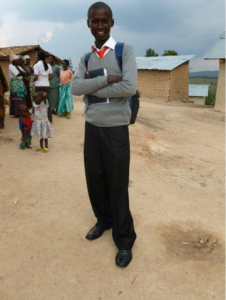 When I went to school, I thought I would do something that would help people have more than one pair of clothes, more than one chair at home, multiple meals a day. I actually wanted to do community development, but because my background in high school was in science, I was not allowed. I was on a government scholarship. I had to take what I was given as a student, and I was sent in to do physics.
I thought, "Look, I'm gonna study what is available for me." My parents were not able to pay for my community development studies, which I actually wanted. But I always knew I'd find my way to community development. That's why I started volunteering with Spark Microgrants, to support rural, poor communities.
It was so fulfilling. I felt this was my calling: helping people to address extreme poverty, to live a decent life.
Can you tell me about a pivotal moment in your career that has shaped who you are?
Growing up, seeing poverty in your own home and around you in the community, shaped my thinking around what I can do to help other people. But when I was admitted to study physics, everyone told me you're going to be a teacher, you're gonna be in physics laboratories, doing experiments, but nothing about helping communities in development. 
It was a traumatising experience. I was like, "Oh, I'm not gonna make it in something I have always promised myself I'd do." That experience of studying something that I didn't want, drove me to push the boundaries. 
When I started volunteering with Spark Microgrants, I wasn't expecting money. I just really wanted to have an experience that would lead me to development. I worked really hard and invested a lot of my spare time learning about project proposals, how to write reports about projects, and grant proposals so that he could continue working in development. 
It was more than an experience that would look good on my CV. This was something close to my heart. I would go out to the fields for community meetings, and I would stay there for four or five hours, even though the meeting was only for one hour. I enjoyed creating these human to human interactions, because in most cases, these people didn't have the opportunity to talk to one another about common issues. I also enjoyed hearing stories of people saying "This project that you supported enabled me to send my kid to school." And I would reminisce and think, "I wish we had a similar projects when I was growing up."
I think for me, my motivation was that I'm helping people who are actually in a similar situation that I lived in.
How did you find your way to BRAC? 
My previous work was with organisations that were addressing individual problems of poverty. It was with GiveDirectly giving cash to people in poverty and Spark Microgrants implementing community-led development by helping people in poverty identify their most pressing challenges and then giving them small grants. It was with organisations addressing some problems. But poverty is multidimensional. There is a need for multi-sectoral solutions to be able to address poverty and lift people out of extreme poverty. 
When I was first introduced to the holistic approach of Graduation, I thought, "This is going to combine all my various experiences from cash transfers to community mobilisation." It was going to be a combination of everything I have worked on in previous years and then put all of them together in one approach. 
Also, I believe the government should be the one driving social change, especially when it comes to implementing programmes that address poverty. And then in that sense, because my job also involves partnership with the government, helping them to build strong systems that would address poverty. That was actually my real interest in joining UPGI.
What are you hoping to achieve or contribute to through your work in Rwanda?
My dream is to see the government investing a significant portion of money in helping people have enough food and living a decent life, investing in Graduation, in holistic programmes. 
I can't wait for the time when we'll be talking about poverty as something in the past. You know, have museums where people can go to witness poverty instead of witnessing it in communities around the world.
Helping the government establish strong systems to eradicate poverty is something I want to see in the future with the government driving the programmes and giving people multifaceted interventions – coaching them, giving them livestock, teaching them to earn money, sending their kids to school, and getting access to healthcare. That's what we're trying to do now through BRAC. If that is achieved, it would be a huge success for me.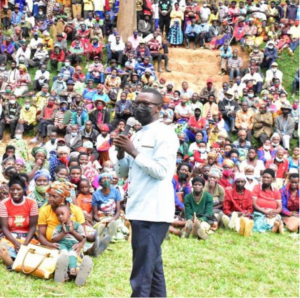 What is something important you've learned about this work that you'd like to share with others?
Networking is an important aspect of what I do and necessary for this work. Shaking hands with people, sharing what you're doing, and also getting support from people. Talking to people and making them understand what you're doing and what you support is how you gain their buy in. With my work, it's mostly partnership development. You need people to believe in what you do. For them to believe, you need to be able to articulate what you do and what kind of contribution you can make. 
Make sure you are invited to the table where development interventions are being discussed among decision makers. You can identify gaps that you can support. You can align what you are doing with their priorities, you can even identify the individuals who will understand what you can offer. I have seen that there are institutions and there are individuals. It's important to have partnerships with institutions but also make sure there is a relationship with the individuals. 
Anything else you'd like to share that we didn't cover?
When talking about inspirations, one is my mom. My mom never went to school. But I didn't know my mom couldn't read or write until I finished high school because whenever we got home from school, she would ask what we learned. And because we knew she would ask, we had to come home prepared. She pushed me so hard to embrace every opportunity I came across. 
I think everyone in life needs a push. And it can be a push from the problems you lived in because you don't want to fall back. It's one of the things I always tell my friends, like whenever I think about my previous life, I'm like, yeah, going hungry is why I never complained. I never complained that it's too much work. I will push myself and things will go well. That belief originates from my experience with hardship and the push my mother gave me.