By Courtney Calardo, Head of Communications and Jean Claude Muhire, Rwanda Program Director
Caption for featured image (above): Champions of gender equality gather at BRAC International's side event during Women Deliver including Ministers Prof. Jeannette Bayisenge of Rwanda, Dorothy Gwajima of Tanzania, and Williametta Piso Saydee-Tarr of Liberia; along with Hana Brixi, Global Director of Gender, World Bank Group; Shameran Abed, Executive Director of BRAC International; Rudo Kayombo, Regional Director of Africa, BRAC International; Femi Oke, International Reporter and Co-Founder of Moderate the Panel; Minister Ingabire Assumpta of Rwanda; (PC Makmende Solutions, Rwanda).
Women are at the centre of some of the world's most pressing issues, bearing the brunt of the impact. Yet research shows that when we put women at the centre of development solutions, they drive transformative socioeconomic development within their households and communities. 
This was a key point of discussion at this year's Women Deliver – the world's largest conference on gender equality – which was hosted for the first time in Africa. 6,000 people from around the world congregated in Kigali, Rwanda to discuss data-driven interventions that advance sexual reproductive health and rights, social and economic inclusion, and climate resilience, among other topics central to gender equality.
As head of the conference's Advisory Board, Rwanda's Minister of Gender, Prof Jeannette Bayisenge, played an instrumental role in bringing together key actors – such as Ellen Johnson Sirleaf, Former President of the Republic of Liberia; Natalia Kanem, Executive Director of UNFPA; and Malala Yousafzai, to name a few. Champions like Minister Jeannette Bayisenge and Rwanda's Minister of State, Ingabire Assumpta, highlighted the need to invest resources into holistic approaches that empower women and girls to overcome the multitude of challenges they face. 
"For the last 30 years here in Rwanda, we have been able to make good progress in achieving gender equality," said Minister Bayisenge. "This is thanks to the steady political will, progressive and gender-responsive legal and institutional frameworks, and strong collaboration of national and international partners."
Building on this commitment to gender equality, Minister Assumpta shared specific ways in which the Government of Rwanda is leading efforts to achieve this goal.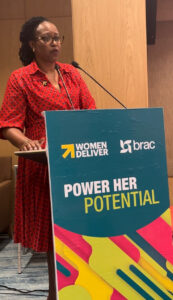 "Women in Rwanda are involved in a number of economic activities including agriculture, entrepreneurship, and other income-generating activities," said Minister Assumpta during BRAC's side event "Power Her Potential." "Different initiatives have been established to encourage women's entrepreneurship and increase the access to finance and business development services." 
One such initiative is the Government of Rwanda's newly launched National Strategy for Sustainable Graduation (NSSG), which is designed to provide women with the resources and tools needed to overcome the economic and social challenges that keep them trapped in poverty and develop sustainable pathways out of the poverty trap.
This programme is part of the Government's broader efforts to eradicate extreme poverty by 2030.
The Graduation approach is a time bound, big push investment that BRAC pioneered back in 1972 and is now proven to build self-confidence, skills, resilience, and sustainable livelihoods for participants, which continue to increase up to 10 years after completing the programme.
The approach provides participants with a large productive asset for context specific markets (i.e. goat, cow, or sewing machine), ongoing coaching to support participants in developing skills to make the asset productive and develop aspirations, and consumption support like cash, food, and/or connections to government services to support urgent needs while that asset becomes income generating. 
Graduation programmes are designed to positively impact all household members – it is proven to boost human capital and overall wellbeing within the household and has even been shown to have spillover effects within the broader community – but the approach specifically focuses on working-age women.
"[BRAC] has actually figured out how to eradicate poverty," said Anita Zaidi, President of the Gates Foundation's Gender Equality Division, during her remarks at the "Power Her Potential" side event. "And poverty is at the root cause of so many of the ways in which women and girls are held back. It is not the only cause, there are also norms and culture, but if we can address these issues, the issues of poverty and how to get rid of poverty and cultural norms, social norms, a lot can be done."
"BRAC figured out how to scale in Bangladesh, and they are figuring out how to scale in Africa," Zaidi continued. "I am super excited to see what they learn, hear what's different, what's the same. Context is different, so I'm interested in what they learn and how they scale."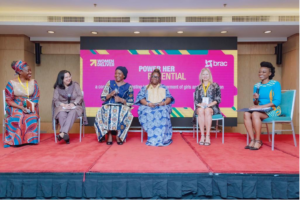 One of the places where BRAC is supporting efforts to scale this holistic, evidence-based approach to extreme poverty is in Rwanda, where we are a proud partner of the Ministry of Local Government's NSSG – providing technical assistance, implementation support, and promoting awareness of the Graduation programme.
Graduation is one of many proven, comprehensive approaches for advancing gender equality, however. There are many others worth investing in, which Hana Brixi and her team at the World Bank Global Gender team are looking to support through their recently launched draft 2024-30 World Bank Gender Strategy. One of the key objectives of the World Bank's new Gender Strategy, along with efforts of many of those who attended Women Deliver, is to collect insights from practitioners and key actors and identify the most critical and promising next steps to advance gender equality. One such next step that Hana emphasised during Women Deliver is increased multisectoral collaboration to more effectively leverage existing resources and achieve lasting impact.
"BRAC is a great partner and it's a great source of inspiration," said Brixi. "It shows what works, and I think in the partnership, we can make it work not only for hundreds of thousands of women but for millions of women."
The urgent need to act and the vast amount of work that needs to be done to reverse lost progress makes it clear that we cannot continue working in silos. "We will need a lot more hands on deck and it cannot just be done by NGOs like BRAC in the different countries. We need the government," said Rudo Kayombo, Regional Director of Africa at BRAC International. "We need to run very fast, and partnership is going to get us there."
Shameran Abed, Executive Director of BRAC International, further stressed the need for effective coordination to achieve gender equality in his opening remarks of BRAC's side event. "Enough of tinkering around the edges. There is a lot of work that has been done. If you want inspiration, inspiration is all around us." 
"If I have one hope from this gathering," Abed continued, "it is that we come together as civil society organisations, as governments as multilateral organisations, donors, academics, and youth advocates, and we decide that now is the time to supercharge our efforts and not only find solutions but scale solutions."
We must work together, investing in what we know works, and taking them to scale so we can achieve gender equality sooner than 130 years – as current estimates predict. The hundreds of thousands of women and girls living in poverty and on the outskirts of society cannot wait that long – nor should they have to.