By Elaina Conrad | Communications Associate & Jake Konig | Content Development Associate, BRAC Ultra-Poor Graduation Initiative
On this International Women's Day, we face the overwhelming impacts the COVID-19 pandemic has had on progress toward global gender equality. Women have been disproportionately affected by the pandemic, losing their livelihoods at a higher rate than men and bear a greater burden of unpaid care work. Girls are dropping out of school at higher rates due to economic pressure from lockdowns and are being forced into child marriage and child labor.
Now more than ever, the world needs evidence-based approaches to address the complex challenges and inequalities exacerbated by COVID-19. One such way forward is BRAC's Graduation approach, a holistic solution that is proven to help women overcome the circumstances that trap them in extreme poverty and help create a pathway out and toward a life of increased opportunity.
Through livelihood assets, cash transfers, and coaching, the Graduation approach addresses participants' multidimensional needs within the local context and helps them develop sustainable livelihoods. Graduation enables women to choose to challenge traditional social norms. To date, BRAC has reached more than 2.1 million households through Graduation, and we aim to reach 21 million more through BRAC Ultra-Poor Graduation Initiative's (UPGI) efforts to scale-up in countries with the greatest potential for impact.
There are several key elements to the Graduation approach, each contributing to its overall effectiveness and long term results. Coaching, however, is perhaps the most critical success factor for the Graduation approach. For participants, coaches offer life skills training paired with financial and business skills, which together enable them to be leaders in their homes and communities. Going beyond basic literacy and financial skills development, coaching amplifies the impacts of the other components of Graduation. Coaching helps change attitudes, behaviors, and norms that can prohibit women from realizing their full potential as leaders and changemakers both within their homes and in their communities.
"Empowering a community member and witnessing their improvement in life is a critical and primary goal of my job, and that's why I love it!" says Susan Mukei, a Field Officer with CARE in the Kitui region of Kenya. As a coach, Susan works with participants both individually and in groups to build life skills and self-esteem among participants.
In her book, The Moment of Lift: How Empowering Women Changes the World, Melinda Gates states: "If you want to lift up humanity, empower women. It is the most comprehensive, pervasive, high-leverage investment you can make in human beings." BRAC UPGI wholeheartedly agrees with this statement, and by harnessing the power of coaching, participants of Graduation programming have not only been empowered themselves, but like the ripples of a stone dropped in water, have gone on to empower their families and communities.
Agnes is one such example of a woman lifting up her community using the confidence and skills gained through the Graduation approach. Prior to her involvement in the Programme for Rural Outreach of Financial Innovations and Technologies (PROFIT Financial Graduation programme, funded by IFAD and the Government of Kenya, Agnes said, "my confidence was very low and I was embarrassed of my home."
Hard work and support from her coach helped Agnes save enough money via the Village Saving and Loans Association (VSLA) and open a small shop and hotel in the center of town where she now welcomes her neighbors to come to her for support and assistance. Her whole family is involved in the business — including her husband. Agnes employs him to help manage the hotel and help in the kitchen, and the two of them discuss and make joint decisions for both their household and business.
"Since the start of my involvement in this programme, there is more love between my husband and me," she says.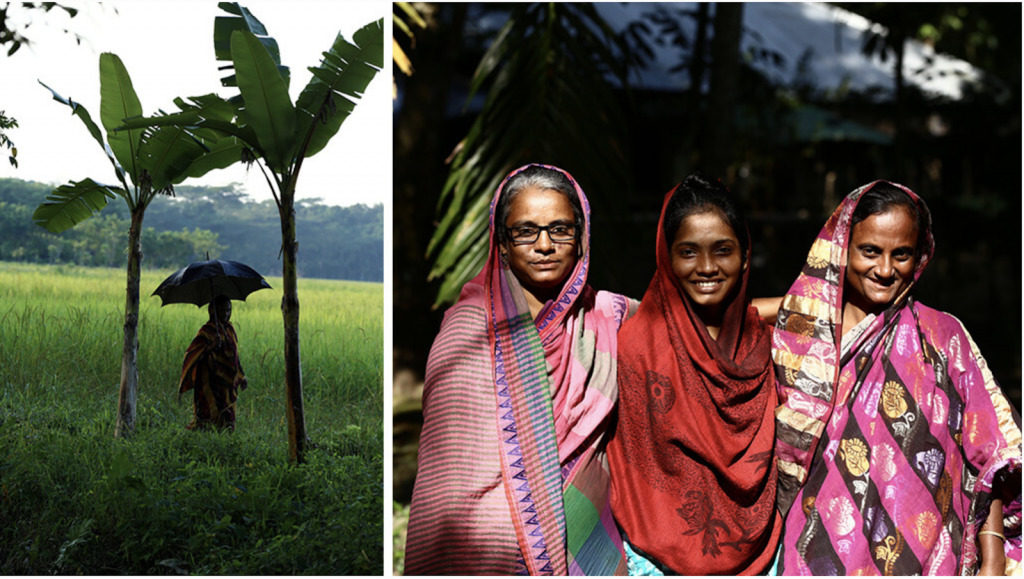 By building confidence and solidarity among participants, the Graduation approach aims to provide women with the tools, knowledge, and confidence to raise their voice and challenge traditional gender norms. One profound example of how a previously ignored voice can change the trajectory of an entire community is that of Nurunnahar.
In 2009, Nurunnahar enrolled in BRAC's Ultra-Poor Graduation program in Bangladesh and worked through all the comprehensive steps common to Graduation programming, including receiving livelihood assets, linkages to government services, and undergoing group health and social training.
Nurunnahar mentioned that apart from the assets she received that allowed her to start her livelihood, the most impactful takeaways from her lessons was the social empowerment she gained, fostered by the relationship she formed with her coach. The many lessons reviewed over their two years together empowered her to feel like she could begin facing injustices she witnessed in her community.
With her newfound income and knowledge, Nurunnahar gained the confidence she needed to raise her voice against the marriage of her underage niece, and eventually, 20 other underage girls in her community. Previously outcasted in her community, Nurunnahar was elected commissioner of her municipality and is still working to promote education for girls, prevent gender-based violence, and end child marriage.
Nurunnahar serves as a powerful example of how investing in women truly is the most comprehensive, pervasive, high-leverage investment you can make in building the society we want.
By supporting women and helping them build confidence and skills, the coaching component of the Graduation approach not only supports women in pursuing resilient livelihoods but also empowers women to become agents of change within their communities. Stories like Agnes' and Nurunnahar's can be found all across the sites where Graduation has been employed to help women and families lift themselves out of extreme poverty.
The unique relationships built between coaches and participants provide women with a safe, trusted place to address complex challenges and explore new attitudes and beliefs. Coaches help women lift themselves up from being silenced and oppressed to become strong voices heard throughout their communities and create better joint decision-making in the household. These voices not only improve a household's economic potential but also create a ripple of change to challenge deeply ingrained beliefs throughout their communities.
Whether they encourage solidarity and mutual support between neighbors like Agnes or help keep girls in school instead of underage marriages like Nurunnahar, empowered women lift entire communities up with them.
Read More on Our Work in Kenya: