By Max Gollin, Deputy Manager of Communications and Elaina Conrad, Communications Associate | BRAC Ultra-Poor Graduation Initiative
Eradicating extreme poverty requires collaboration and learning, and BRAC UPGI is dedicated to data-driven adaptation and learning across our work. At the start of May, BRAC UPGI launched a survey to hear from our readers and stakeholders on what you most want to see in terms of content and information around Graduation.
We will use this data to ensure our own content is tailored to best serve the Graduation community of research and practice. We are looking at how our blogs, knowledge products, briefs, events, and more can best align with key knowledge gaps and priority areas of interest for our audience. Our team is also examining the preferred types of content and online channels for each segment of our audience to meet you where you are and share knowledge in the ways you find most engaging.
We are glad to share high-level takeaways and results with you below.
Survey Demographics
The results of this survey include insights from respondents at NGOs, CSOs, governments, research institutions, multilateral institutions, and media in more than 10 countries and 13 organizations around the world.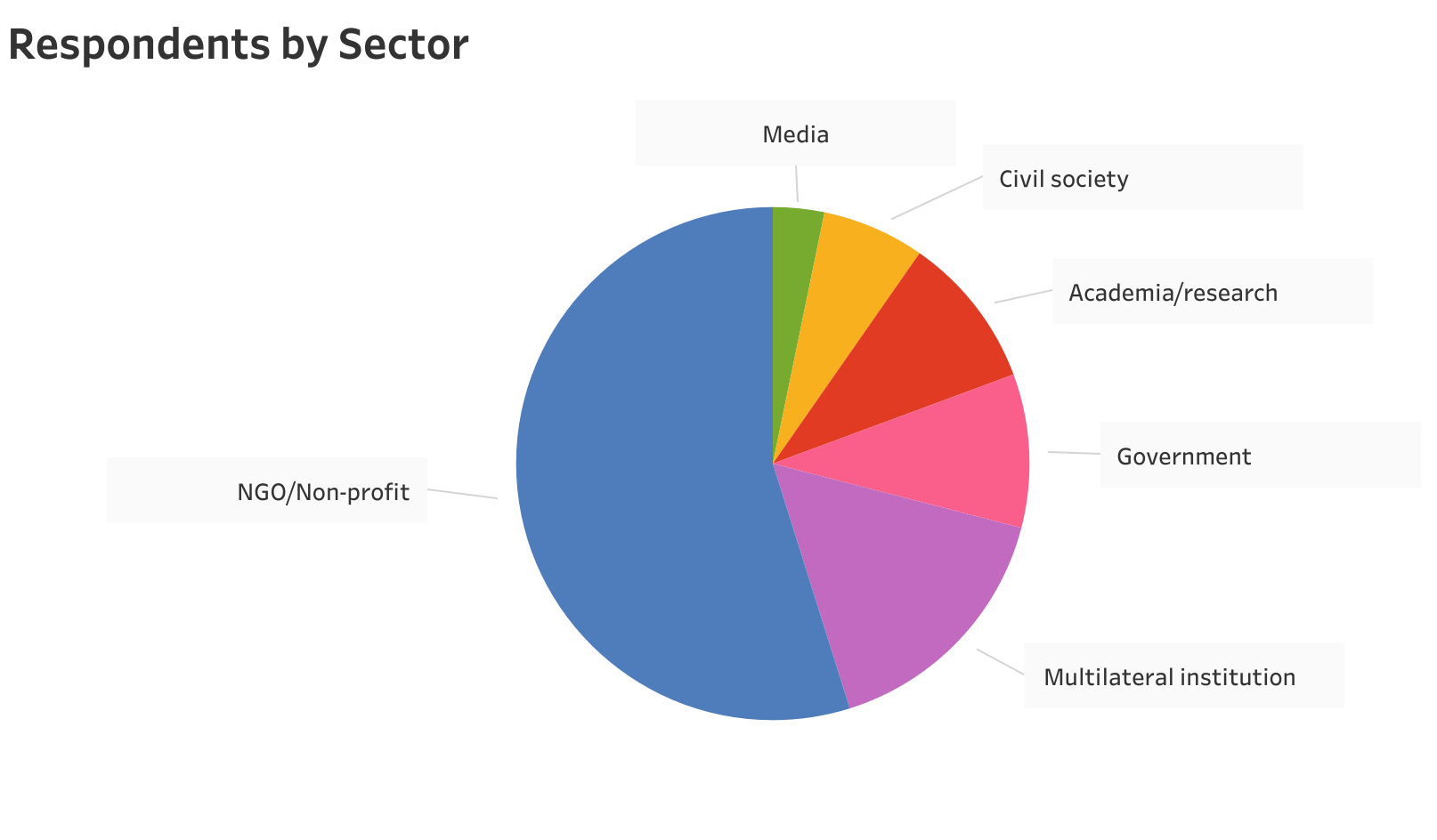 Slightly more than half of respondents identify as working in the NGO/non-profit sector, at 53 percent of all responses. Multilateral institutions are the next largest bloc, accounting for 19 percent of respondents.
Researchers/academics and government representatives account for approximately 9 percent each. CSOs represent 6 percent of respondents, and media 3 percent.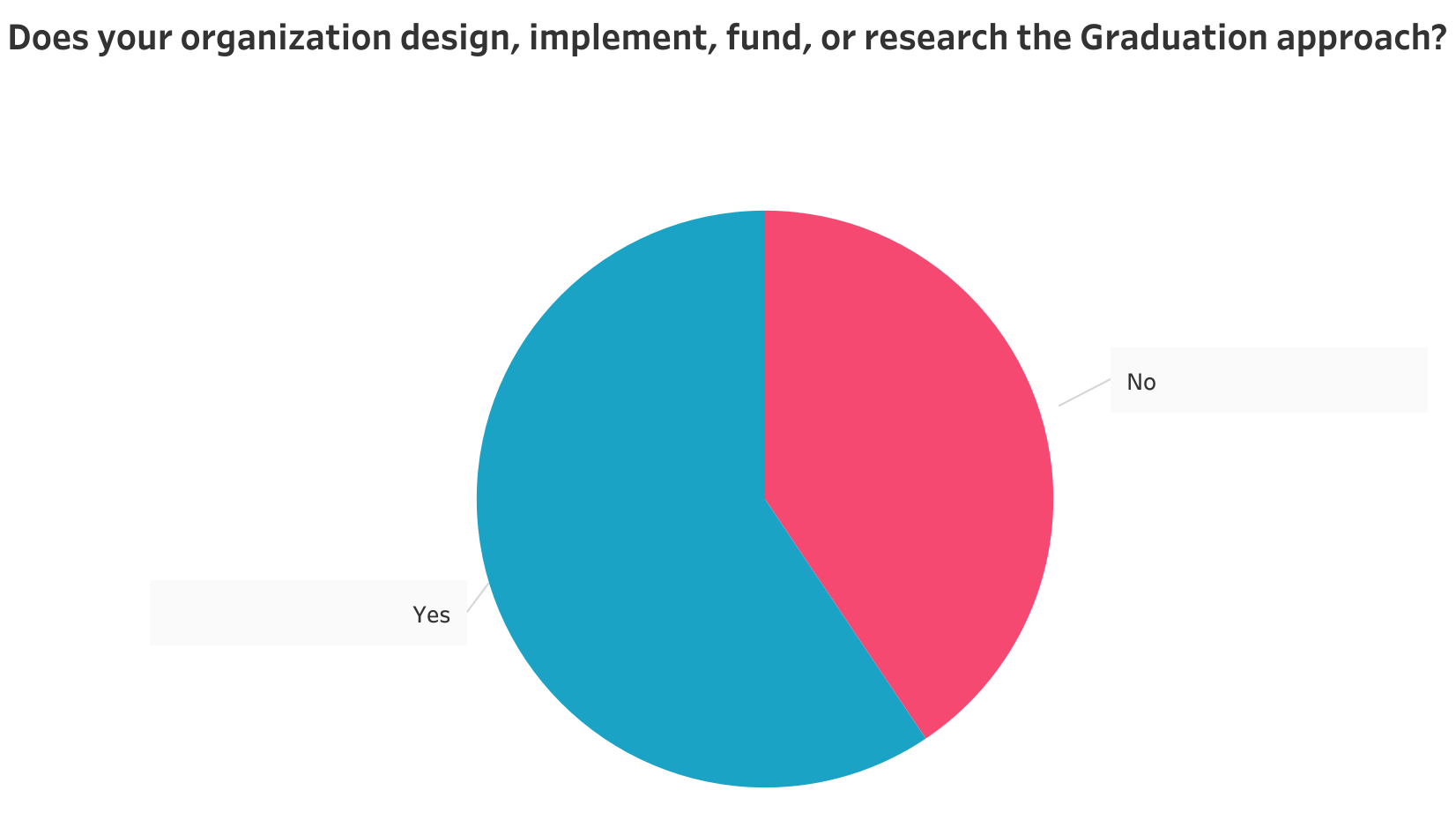 The majority (60 percent) of respondents work for organizations/employers which directly design, implement, fund, or research Graduation.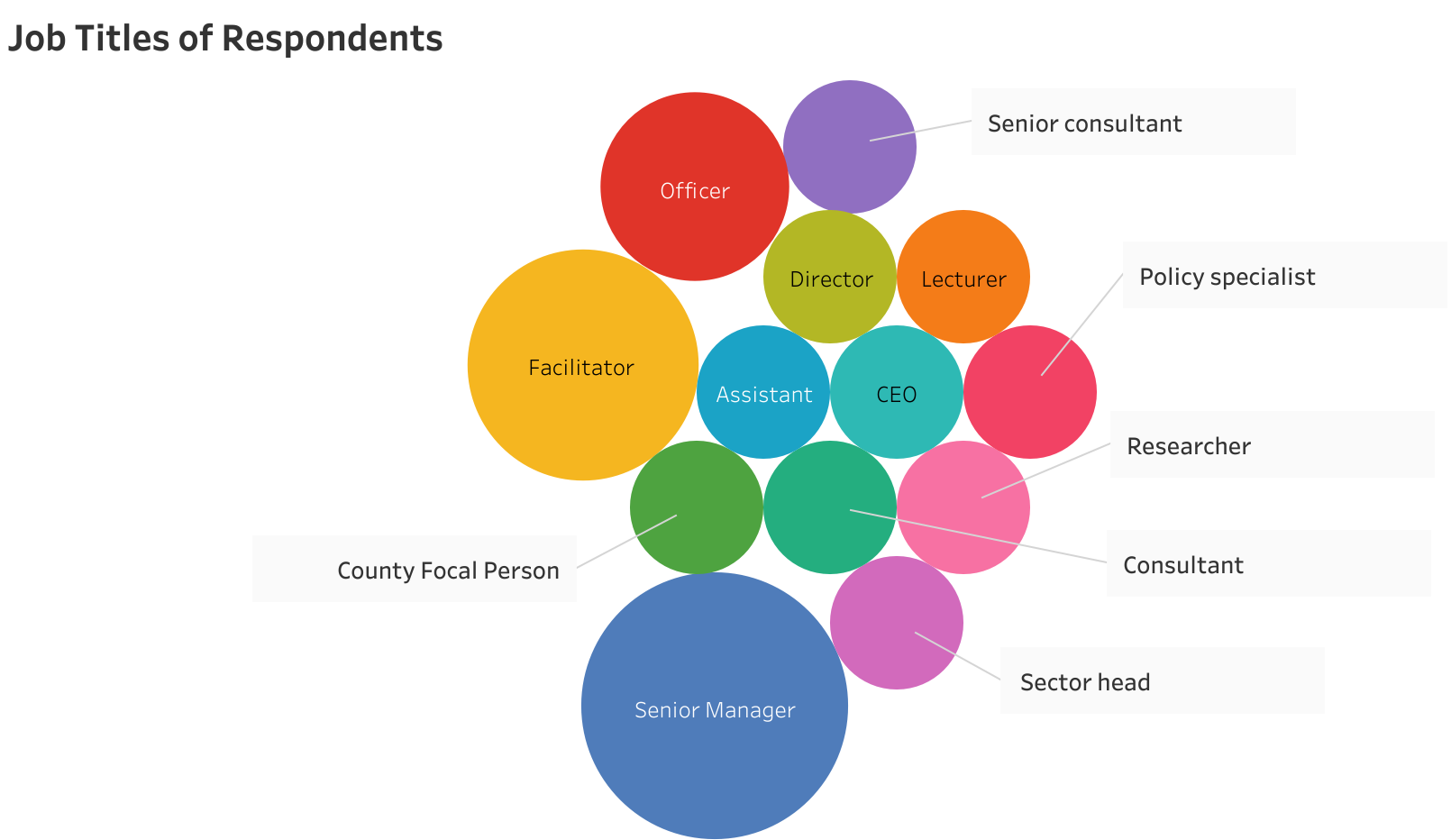 The largest number of respondents are technical specialists, program staff, managers, directors, researchers, or consultants.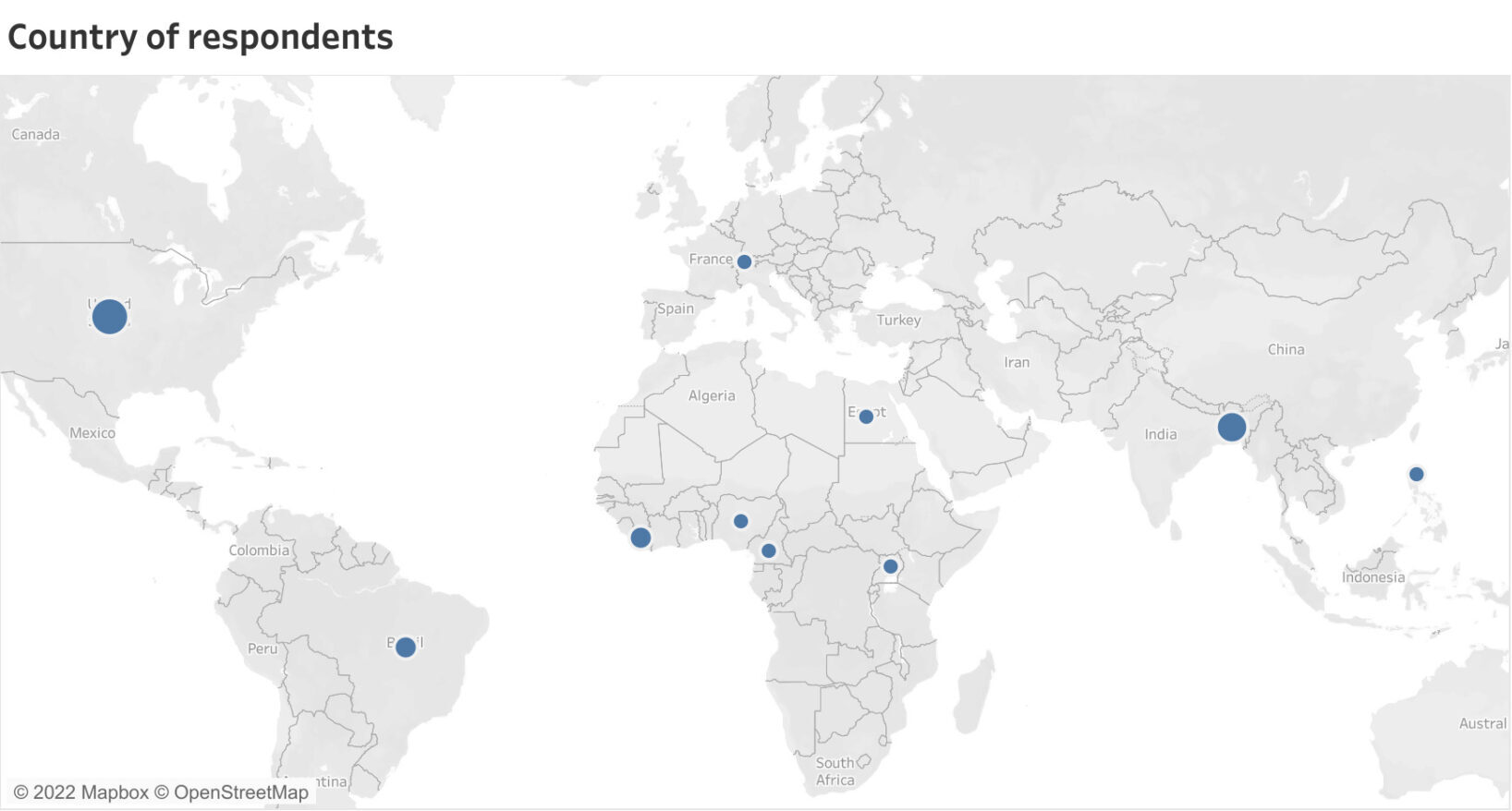 The largest number of respondents come from the US and Bangladesh, followed by Brazil and Liberia. We have representation from Africa, with additional responses from Cameroon, Egypt, Nigeria and Uganda. There are fewer responses from Asian contexts with the exception of Bangladesh and the Philippines.
Elements of Graduation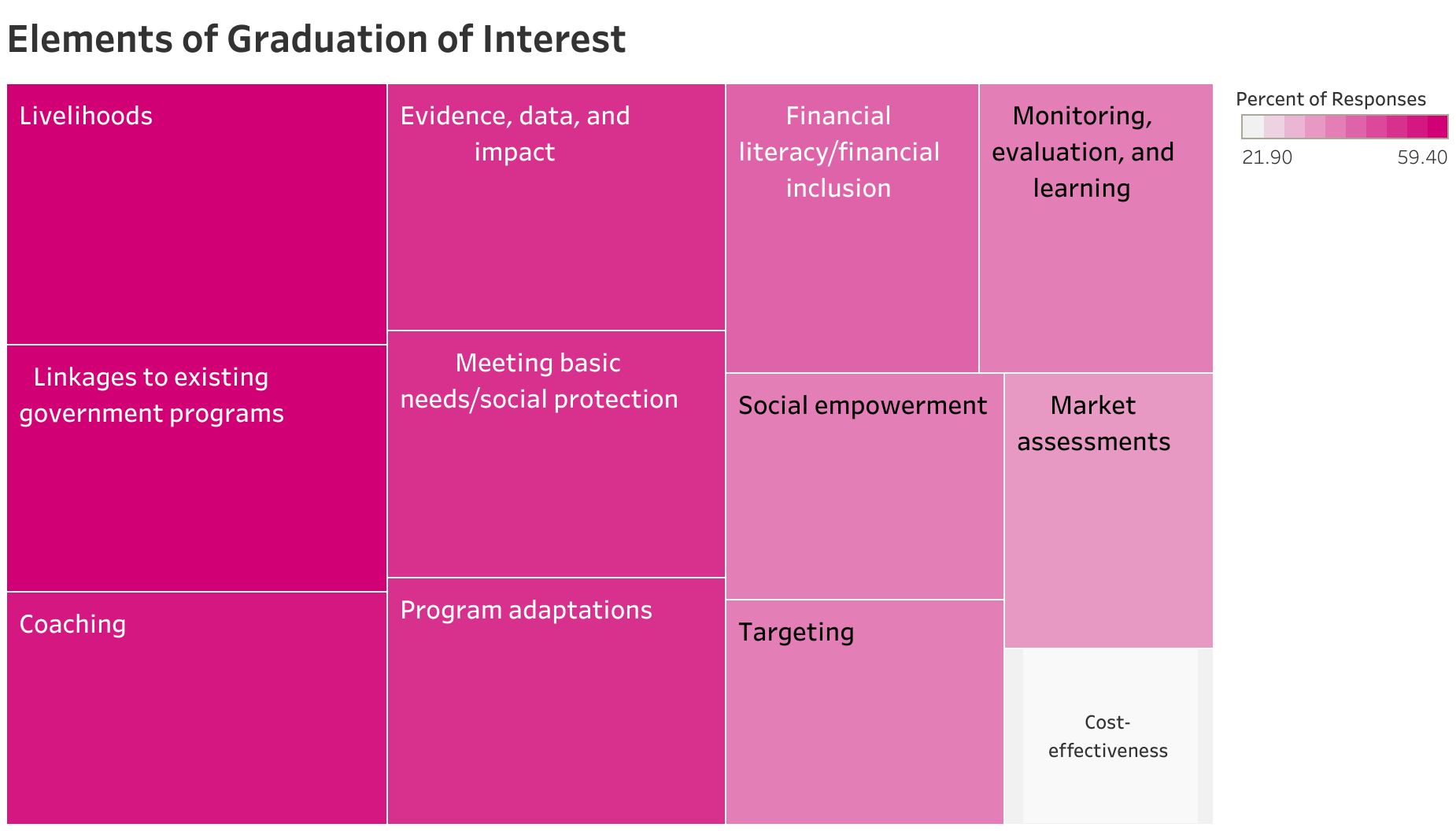 Respondents are most interested in content around Graduation livelihoods, linkages to existing government programs, and coaching. There is a lower level of interest in cost effectiveness, followed by market assessments, social empowerment, and targeting.
Multilaterals and government respondents are generally interested in similar elements of Graduation. Government representatives indicate the highest interest in coaching, evidence, data and impact, financial literacy/financial inclusion, and market assessments. Multilateral representatives are also interested in evidence, data, and impact and financial literacy/inclusion but noted monitoring, evaluation, and learning as an area of particular interest.
NGO and CSO representatives have interests that tend to diverge from multilaterals and governments, with linkages to existing government programs, livelihoods, and coaching being their most frequently selected topics.
How do we think about livelihoods for people living in extreme poverty? Livelihoods Promotion in the Ultra-Poor Graduation Approach provides a helpful overview and key technical considerations.
When considering integration with existing programs, we have found five insights can guide the way in our blog Lessons Learned: How to Integrate Graduation into Existing Programming.
Topics Related to Graduation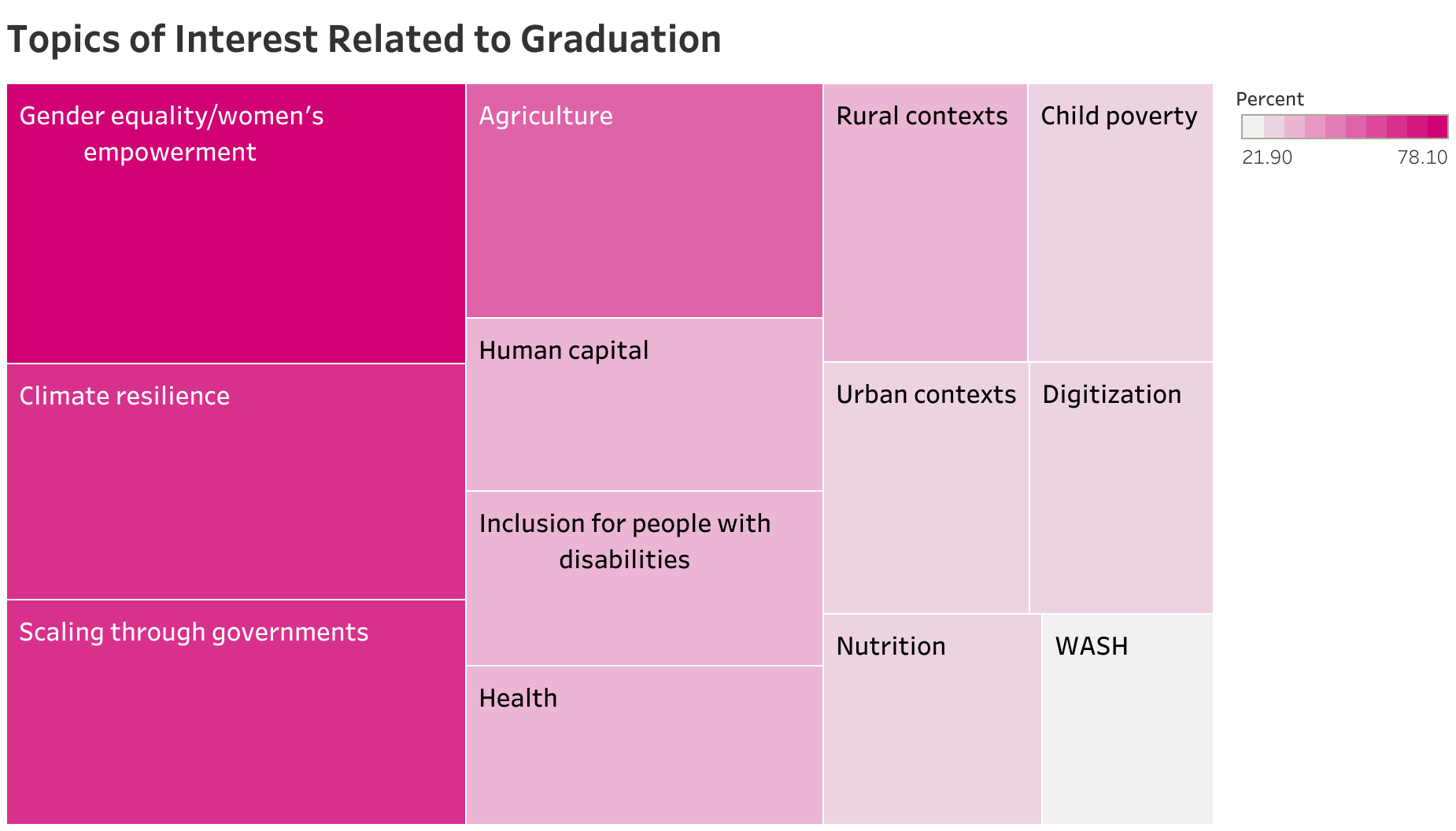 By a fairly wide margin, the largest number of respondents are interested in Graduation and gender equality/women's empowerment, followed closely by climate resilience and scaling through governments. Water access, sanitation and hygiene see the lowest level of interest, followed by nutrition and program digitization.
There is roughly equal interest between Graduation in rural contexts and urban contexts. Respondents are approximately equally interested in agriculture, child poverty, health, human capital, and disability inclusion.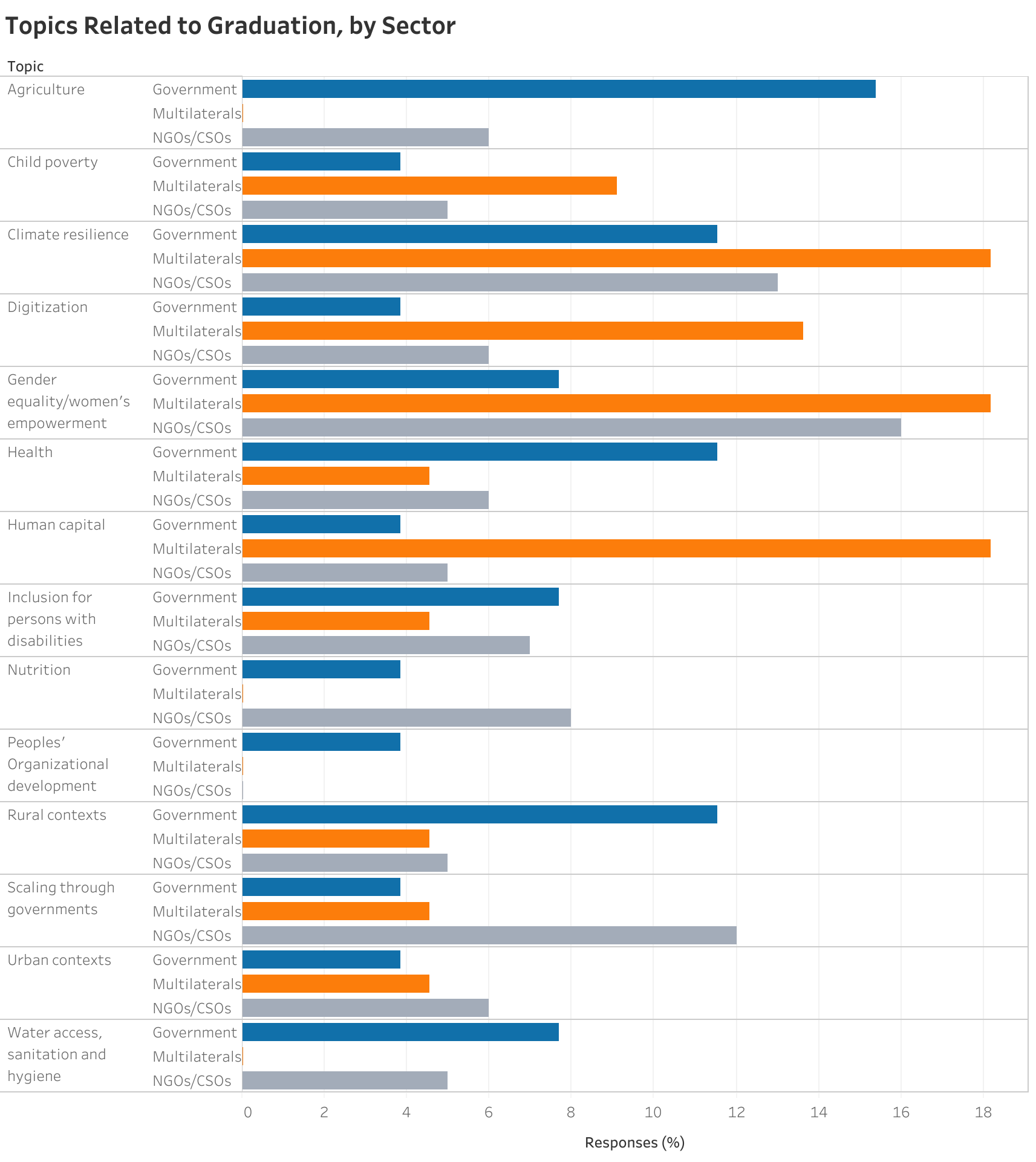 Topics of interest were similar across sectors, with climate resilience selected across the board. However, government representatives are most interested in agriculture, health, and rural contexts, which are not shared by the other two sectors.
Multilateral representatives highlighted human capital as a priority, while NGO/CSOs indicated interest in scaling through governments. Both multilaterals and NGO/CSOs listed gender equality/women's empowerment as their top priority.
For those interested to learn more about the intersection between building women's empowerment and climate resilience through the Graduation approach, Leveraging Local Capability to Build Climate Resilience among African Women in Extreme Poverty, highlights work the BOMA Project, IFAD, and BRAC UPGI are doing with governments in Kenya and Tunisia.
Preferred Content Types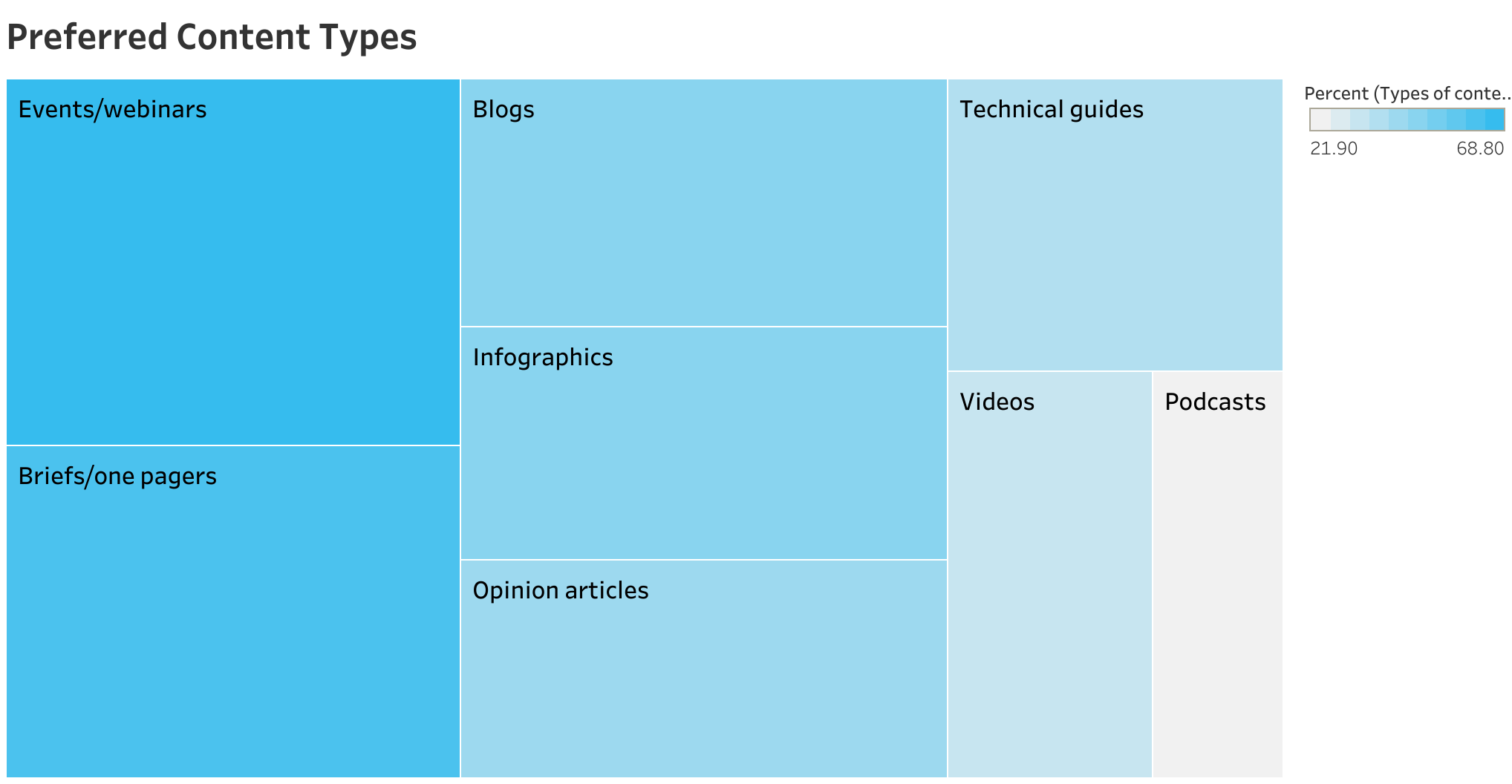 Our respondents are most interested in receiving information via events/webinars and briefs/one pagers. They are least interested in podcasts, followed by videos
There is a comparable level of interest between technical guides, opinion articles, infographics, and blogs.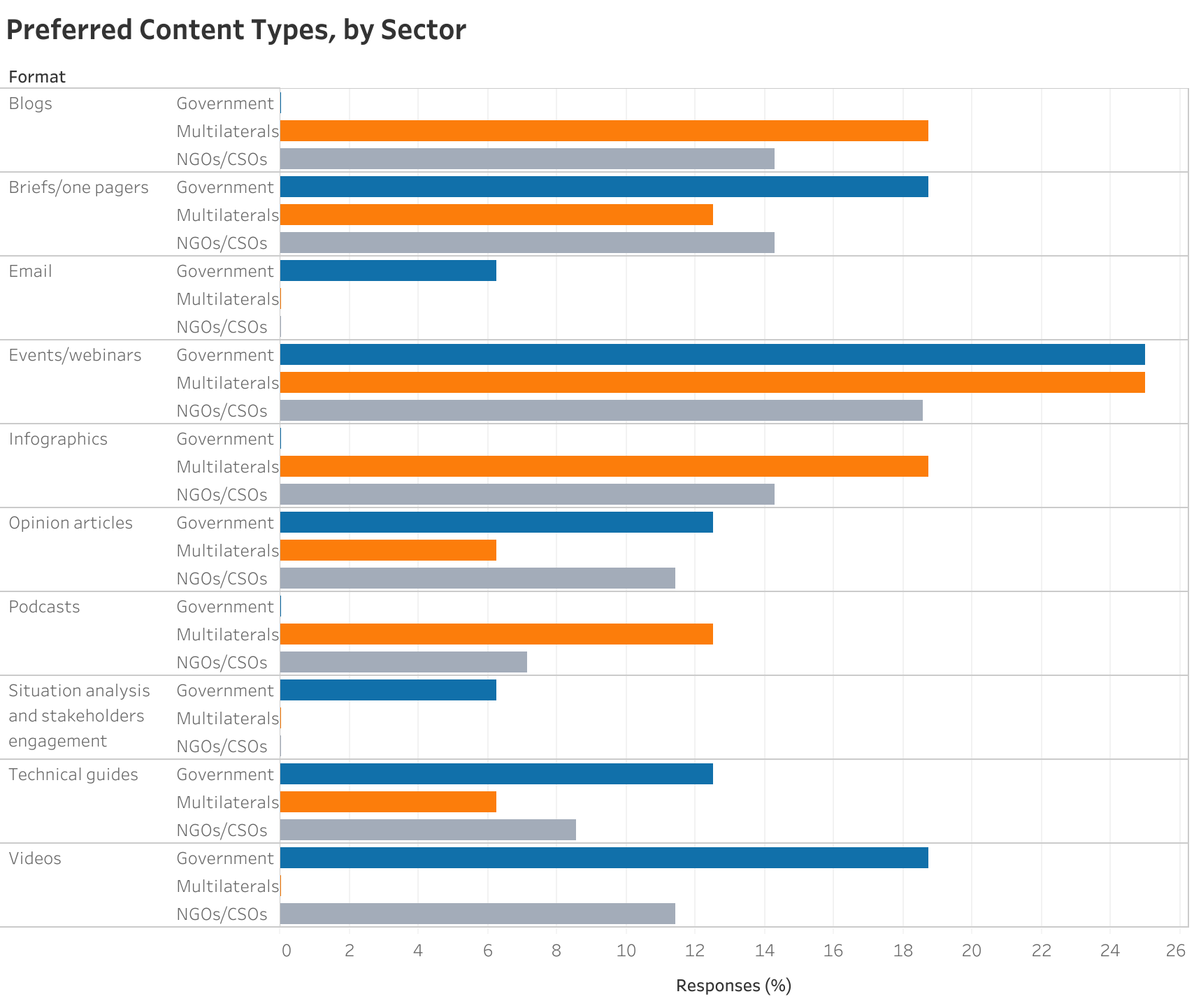 Multilateral institutions also show a comparative preference for blogs and infographics, while governments showed a comparative preference for videos.
NGO/CSO respondents show a preference for events and briefs along with infographics and blogs.
Preferred Content Channels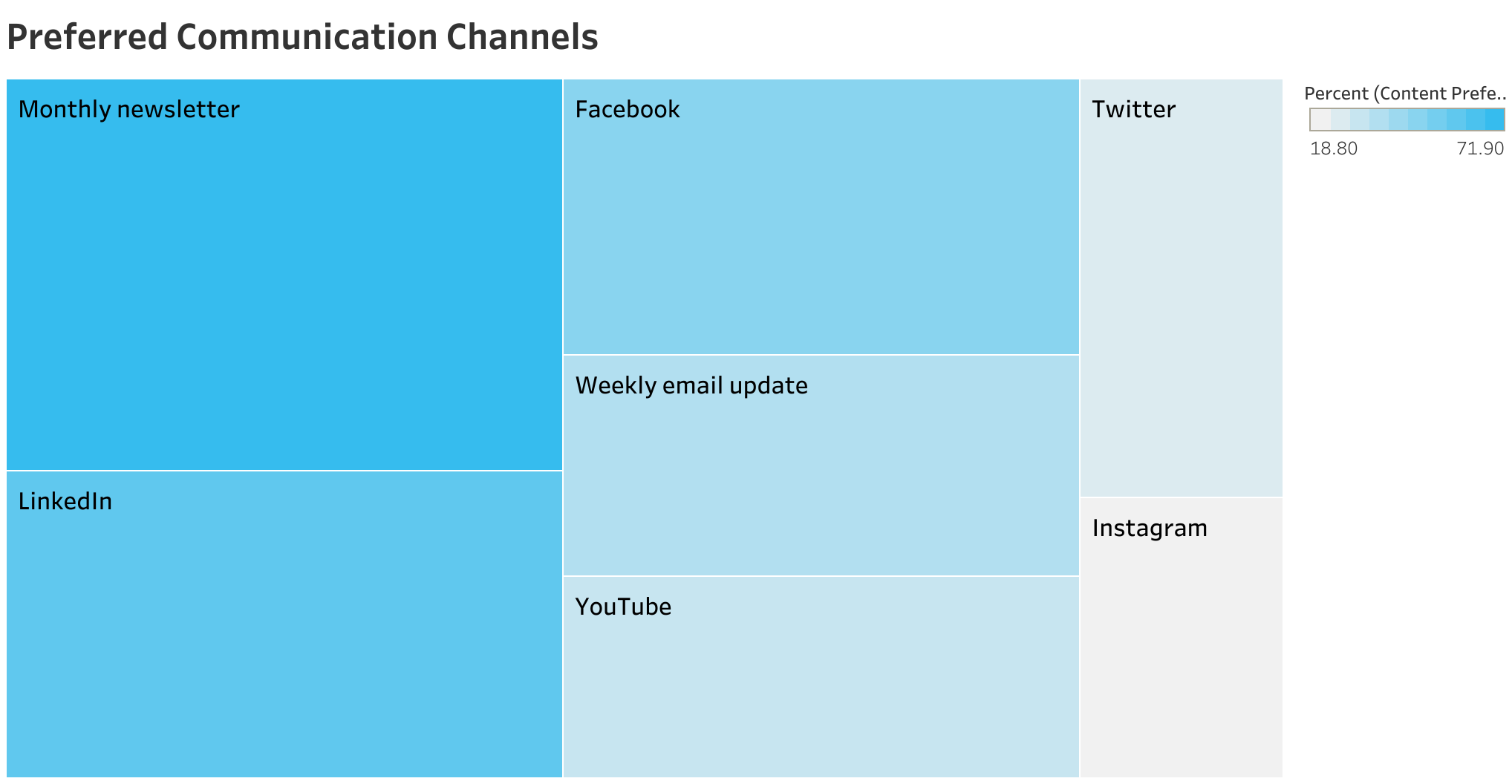 Our respondents prefer receiving content via monthly newsletter, followed by LinkedIn and Facebook. They are least interested in updates via Instagram, Twitter, and YouTube. There is also a greater preference for a monthly newsletter over weekly email updates.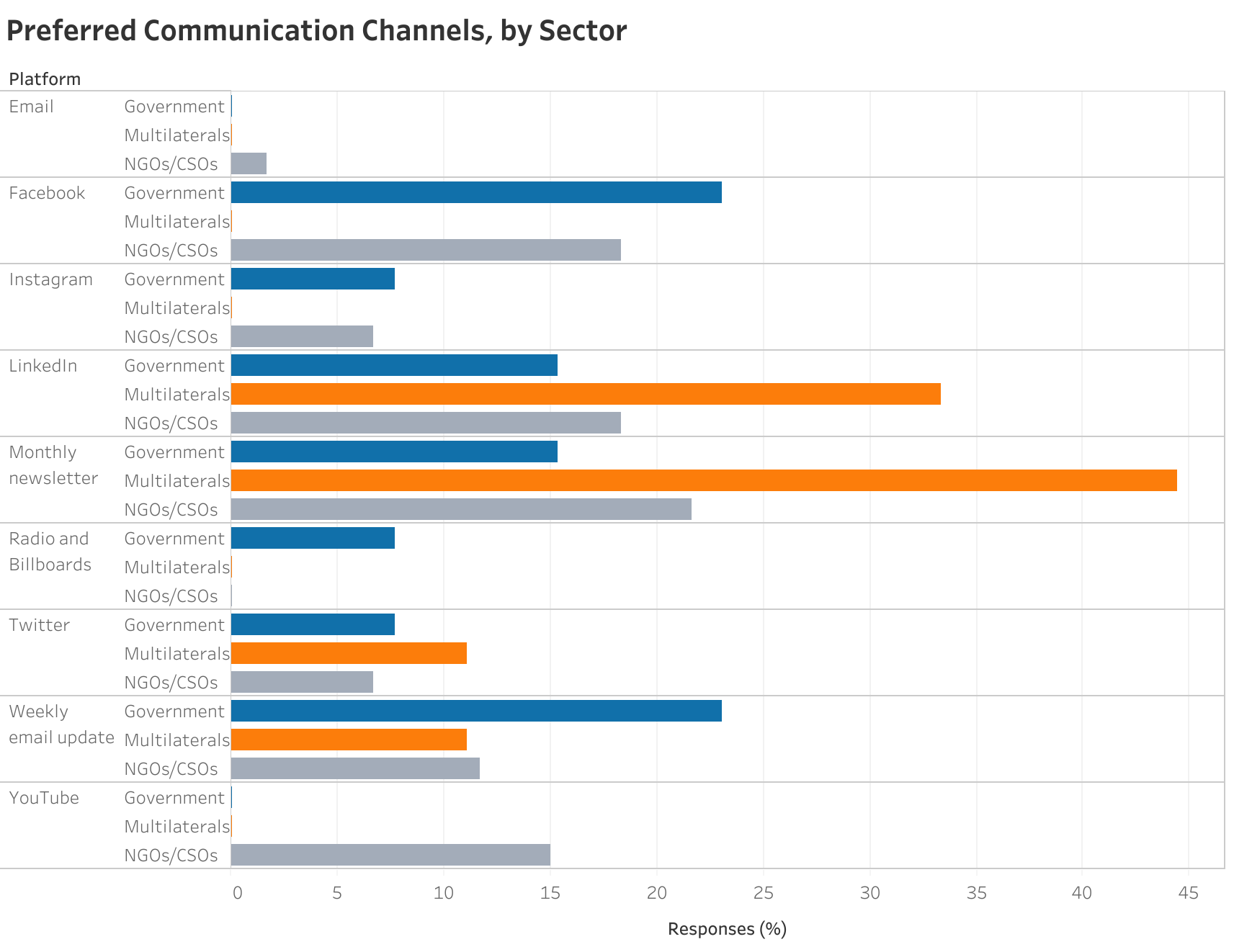 The monthly newsletter is the most selected delivery platform across sectors, but government representatives prefer Facebook as well as weekly email updates. Multilateral and NGO/CSO respondents indicate LinkedIn as a preference, and NGO/CSO responses tend to select Facebook as a top option.
What knowledge gaps, debates, or questions around the Graduation approach would you most like to see answered?
While we received many responses, there are several recurring themes which our audience would like to see more answers around.
There is curiosity for content around cost and ROI, including how to keep costs low at scale and the cost-effectiveness of Graduation programs which provide loans instead of asset transfers.
There is also high interest in how to scale Graduation, especially through governments. Respondents are interested in how to do so by linking Graduation with social protection, how to scale in hard to reach communities, and the role multilaterals can play in helping scale Graduation.
Multiple respondents are eager to hear more about Graduation's long-term impacts and at the micro, meso, and macro levels. This included the measurable changes it brings at the household level, intergenerational impacts, how Graduation contributes to economic growth, how sustainable program impacts are, and long-term RCT findings outside UPG program/Bangladesh. It also included impacts at the level of communities and regions/countries.
Respondents are interested in various Graduation program adaptations, including for climate change, inclusion of people with disabilities, child poverty, adaptation of the pillars of Graduation, and adaptation for financial inclusion/linkages to financial institutions/linkages to agricultural markets.
Lastly, a number of respondents want in-depth guides on implementation, including coaching, behavioral change interventions, case studies of programs, and practical guidance on different staffing models.
If you would like to see additional insights from BRAC's Ultra-Poor Graduation program on how to modify and expand the approach, Lessons on Adaptation and Scale from BRAC's Graduation Program in Bangladesh presents guiding principles building on decades of experience.
What tools, resources, or content related to Graduation are currently most useful to you in your work and why?
Respondents note content on multiple subject areas is currently proving useful, including content on climate adaptation, livelihoods, social protection, social empowerment, WASH, coaching, savings/financial inclusion,  and adaptation to urban contexts.
Several respondents are interested in knowledge products for designing and implementing Graduation. Many respondents also find the research/evidence base for Graduation especially useful, and asked for additional content which makes key findings digestible.
We are committed to raising the visibility and impact of critical research on extreme poverty alleviation through the Graduation approach, and condensing academic findings is a promising way to do so. We synthesize results and implications from two recently published studies on Graduation – one on poverty traps, and one on the cost-effectiveness of psychosocial interventions – in our new blog, Why multifaceted approaches are critical for eradicating extreme poverty long term.
Future Graduation Content
These findings surfaced a great deal of useful information, as well as questions we look forward to digging into further with our partners. For example, what intersections between topics related to Graduation are most of interest? Given the high priority across sectors of content on both gender equality and climate resilience, is there an even greater need for content on women's economic empowerment in climate vulnerable contexts? 
What type of content do certain audiences prefer on certain channels? For instance, do researchers have a preference for receiving new blogs and event updates on social media, or via email? What types of knowledge products are most useful to governments in comparison to NGOs? 
We hope to continue answering these questions through discussions with you all.
We deeply value and appreciate the insights of our partners. As we work to provide content, data, and information that is relevant and useful to you, we welcome opportunities for new and increased partnership. 
If you have an idea for new content or knowledge products or an interest in collaborating with BRAC UPGI, we invite you to reach out via email or our Contact page. 
To stay up to date on the latest Graduation content, please feel free to sign up for our monthly newsletter and follow BRAC UPGI on LinkedIn and Twitter.