Claire Hutchings | Director of Monitoring, Evidence, and Learning, BRAC Ultra-Poor Graduation Initiative
Steven Jonckheere | Senior Technical Specialist, Gender and Social Inclusion in the Environment, Climate, Gender and Social Inclusion Division of the International Fund for Agricultural Development (IFAD)
Philippe Remy | Country Director for the Near East, North Africa, Europe and Central Asia Division, International Fund for Agricultural Development (IFAD)
Women in the Global South are bearing many of the worst impacts of the climate crisis. Recent projections estimate up to 216 million people will be displaced by climate change by 2050. More than half will be women and girls, and women in extreme poverty lack the resources and tools to bounce back from the economic impacts of climate change.
An integrated approach to climate, gender, and poverty that addresses the needs of marginalized populations while building resilient systems is essential. The Government of Tunisia offers lessons for implementing such an approach to including and empowering women in extreme poverty and climate adaptation efforts.
In Kairouan, Tunisia, women in extreme poverty are especially vulnerable to climate risks such as increased frequency and severity of extreme weather, changes in temperature and precipitation, and increased soil erosion. On top of their socio-economic marginalization, Tunisia's increasing water scarcity disproportionately puts women's livelihoods at risk. They tend to be responsible for water-intensive household activities such as cleaning, laundering, and cooking, and many rely on large water-dependent farms for employment opportunities. To address these risks, the Ministry for Agriculture, Water Resources, and Fisheries and the Ministry of Social Affairs have adopted a Graduation pilot program within the larger Economic, Social and Solidarity Project (IESS-Kairouan) livelihoods and natural resource management program.
The IESS Graduation program in Tunisia places a particular emphasis on strengthening climate-resilient livelihoods for women and youth given the severity and frequency of climate-related shocks in the region which disproportionately impact these populations.
As part of the program, women are able to select livelihoods for which they will receive resources and training. These livelihood options are determined by market feasibility, interest and local skillsets, and climate resiliency.
For example, the program is considering  prickly pear cultivation as a livelihood option. Prickly pear cacti provide a wealth of value chain potential and climate resilience impacts: almost all parts of the cacti can be used for food, livestock fodder, or marketable products, and by requiring up to 80 percent less water than traditional crops, they are naturally suited to drought-prone regions. Beyond its household impacts, prickly pear cultivation can reduce the impact of climate change on the environment by reducing soil erosion from water and wind. There is clear scope for policymakers to consider climate resiliency and ecological impact, as well as local markets and participant agency when designing livelihood interventions.
Further, policymakers can integrate a gender-sensitive approach to poverty alleviation that empowers women to overcome gender norms that disproportionately limit their economic opportunity and builds their resilience to future climate shocks. The Graduation program in Tunisia does so by using the GALS methodology, or Gender Action Learning System. GALS aims to give women and men more control over their development and choices while questioning underlying assumptions at the community and household levels. Within the Graduation program, it means having women manage their households' productive asset; increasing cash transfer sizes and kitchen garden training to young mothers for their children's nutritional needs; training on household decision-making; linkages to upskilling telecenters for women and youth, prioritizing women for roles in village-level leadership; linkages to preschool education to ease the burden of childcare; and participatory processes to ensure women's needs and leadership are centered in water access infrastructure.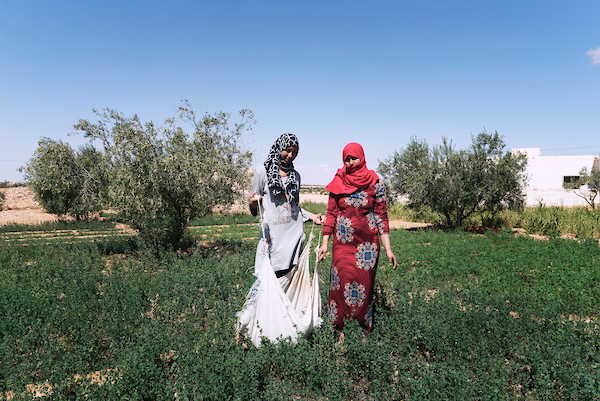 IESS-Kairouan demonstrates the potential to bolster household and community climate resilience by developing livelihoods and safety nets for marginalized groups in tandem with increasing access to climate-resilient public services. The program involves government investments in climate resilient infrastructure such as climate-proofing rural access roads to withstand flooding and systems for delivering clean water. These investments are designed to support the same marginalized, rural areas the Graduation program aims to serve, complimenting household-level interventions with improved drought preparedness.
The Graduation pilot in Tunisia also shows the value targeting anti-poverty interventions by more than income alone. Targeting methodologies used in the IESS-Kairouan project center on the intersection of climate and socio-economic vulnerability, identifying communities with both the greatest climate risks and the most severe indicators of multidimensional poverty. Governments can adopt a similar approach to funnel resources to the people who are most marginalized, such as more remote communities that suffer recurring shocks.
These experiences from Tunisia demonstrate that we do not need to tackle extreme poverty, gender inequality, and the climate crisis in siloes. Not only is it possible to address the intersections of these challenges, but it is also necessary to achieve and maintain long-term impact for the people most vulnerable to climate change.
As governments and international development actors move from commitments to action post-COP, a strong focus on empowering women to escape extreme poverty and withstand climate shocks must be at the forefront of any policy rooted in equity.