By Jake Konig | Content Development Associate, BRAC Ultra-Poor Graduation Initiative
"I needed to work but there weren't any jobs in my village. Sometimes, all we had was just a dried loaf of bread that I used to wet in boiled water and season with salt for my children to eat." — Shadia.
Shadia lives in Assiut, a region in Egypt where 66 percent of people live in poverty. With a medical condition leaving her husband unable to work, the entire weight of supporting the family fell on Shadia. The household experienced many injustices of extreme poverty — food insecurity, health insecurity, the inability to enroll children in school, and more.
100 kilometers southeast of Assiut in the governorate of Sohag, 65 percent of the population live in poverty, including a woman named Jamila. Jamila fell into extreme poverty after the sudden death of her husband. Without the skills or knowledge needed to bring in a reliable income, Jamila's life became deeply unstable.
In 2018, Shadia and Jamila joined the Bab Amal Graduation program, an Egyptian poverty alleviation program modeled on BRAC's Graduation approach. BRAC's Ultra-Poor Graduation Initiative (UPGI) is providing technical assistance on the program in partnership with Sawiris Foundation for Social Development (SFSD), Abdul Latif Jameel Poverty Action Lab (J-PAL), and two implementing NGOs, Giving Without Limits Association (GWLA), and the Egyptian Human Development Association (EHDA). The program is designed to enable people to develop sustainable livelihoods and create a pathway out of extreme poverty.
The program provided Shadia and Jamila with a range of tools and resources, including a stipend to provide immediate financial support, the delivery of productive assets, livelihood training on how to generate income with those assets, and lifeskills training.
The COVID-19 crisis brought forth a massive disruption — but the adaptive nature of the program addressed this shock by extending the consumption stipend for an additional two months to ensure food security and mitigate the impact of reduced household income on consumption.
In addition to these measures, phone based coaching, followed by socially distant one-on-one coaching became vital as coaches in the Bab Amal program were able to safely inform participants on essential hygiene practice and updates about the COVID-19 pandemic, allowing them to pass knowledge to loved ones that protected them from contracting the virus.
"I gained knowledge on how to prevent myself and my family from getting COVID-19". — Shadia
With this set of holistic and contextualized interventions from the Bab Amal program, Shadia and Jamila were able to withstand the shock of COVID-19 and build thriving livelihoods.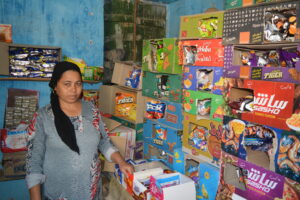 Shadia is the owner of a successful grocery business, operating her store out of an empty room in her mothers house. Through the program, Shadia learned how to record sales, acquire inventory, track profit, and successfully save income. Now, her groceries are supplying her community with useful commodities while providing for her and her family. "This business changed my life. With the money I saved, I can enroll my son in school. I have large ambitions to build my business even more."
After receiving livestock assets from the Bab Amal program, Jamila very quickly began to expand her business and knowledge — from having no experience in operating a livelihood, Jamilia is now a confident businesswoman in the market who is adept at navigating shifting livestock prices, taking out strategic loans, and creating and utilizing savings plans that will allow her to continue expanding her business.
Jamila is using her newfound experience in the program to make a positive impact on her community and within her family — she often mentors other women in her village on the importance of saving, and imparts wisdom gained by building her livelihood to support other women who are building their own.
In addition to bolstering financial stability and promoting awareness around COVID-19 safety measures, the Bab Amal program also leverages its life skills component to empower participants to break harmful, often multigenerational practices such as child marriage. After learning more on the dangers of such practices from the program sessions and her coach, Jamila decided to take action.
"I very much benefited from the life skills training, the information I got about early marriage increased my awareness. I have postponed the marriage of my engaged daughter. I was about to let her get married while she is less than 18 years old, but when I learned the problems that she may be exposed to, I decided that I won't let her get married before the legal age." — Jamila
Shadia and Jamila's stories demonstrate the power and importance of investing in women, and that when a poverty alleviation initiative like the the Bab Amal program is designed to be both holistic and contextualized, even those living in regions of pervasive and intergenerational poverty can can propel themselves on an upward trajectory towards a safe, fulfilling, and hopeful future.