By Bobby Irven | Communications Manager, BRAC Ultra-Poor Graduation Initiative
Partnership is at the cornerstone of all that we do at BRAC UPGI. Without support and collaboration from our partners around the world, scaling BRAC's proven Graduation approach and empowering millions more households to escape the poverty trap would not be possible. For this reason, we are making a concerted effort to acknowledge the important role our partners play in enabling people around the world to create a pathway out of extreme poverty and share our appreciation for their commitment to poverty eradication. One such partner is the Sawiris Foundation for Social Development (SFSD), one of the first philanthropic organizations in Egypt.
In 2018, SFSD, along with the Abdul Latif Jameel Poverty Action Lab Middle East and North Africa (J-PAL MENA), Egyptian Human Development Association (EHDA), and Giving Without Limits Association (GWLA), launched the Bab Amal Graduation program to reduce extreme poverty in Upper Egypt. Targeting approximately 2,400 rural households in the governorates of Assiut and Sohag, this pilot aims to adapt to the many unique barriers of the region, with a special focus on sustainably overcoming issues such as lack of food security, skills, and livelihood options, poor health-seeking behavior, and limited access to government support and financial services.
Despite the many challenges that have arisen due to COVID-19, the participants have been able to build resilience and withstand the economic shock that resulted from the pandemic. This week, I had the opportunity to reconnect with our partners Nahed Yousry, Director of the Social Empowerment Sector, and Thaira Shalan, Program Manager, to discuss their current successes and the future of poverty alleviation in Egypt.
How did the Sawiris Foundation come into being and what is its role in combating extreme poverty in Egypt?
Nahed (N): The Foundation was established in 2001 with an endowment from the Sawiris family as one of the first philanthropic organizations in Egypt. Since its establishment, SFSD has focused on supporting the most marginalized Egyptians out of poverty, unemployment, poor health, and little access to quality education. The establishment of the Foundation was seen as an opportunity to collaborate with public and private actors and aid civil society organizations (CSO's). The main priorities for us have been the empowerment of the most vulnerable and marginalized people, decreasing unemployment, and increasing connections to health services and quality education opportunities.
Over the years, we have only started to understand the various dimensions of poverty and how to address them. Our technical programs (education and scholarships, economic empowerment, and social empowerment) are committed to funding the most cost-effective programs to scaffold beneficiaries out of multidimensional poverty. This is what inspires us.
What personally drew you to SFSD?
Thaira (T): I wanted to work in a large national organization where I could personally connect with the beneficiaries of our programs. Here I can clearly see that our programs are driven by the communities that we serve. I am able to connect with people, and compared with many other organizations, while also assured that we are we are in the stage of shifting to be fully impacted-results foundation
N: SFSD's focus on impact is clear and strong to me. We are constantly reviewing what is working and what isn't, and then we go back and fix it to move forward in a better way. This is very important to me.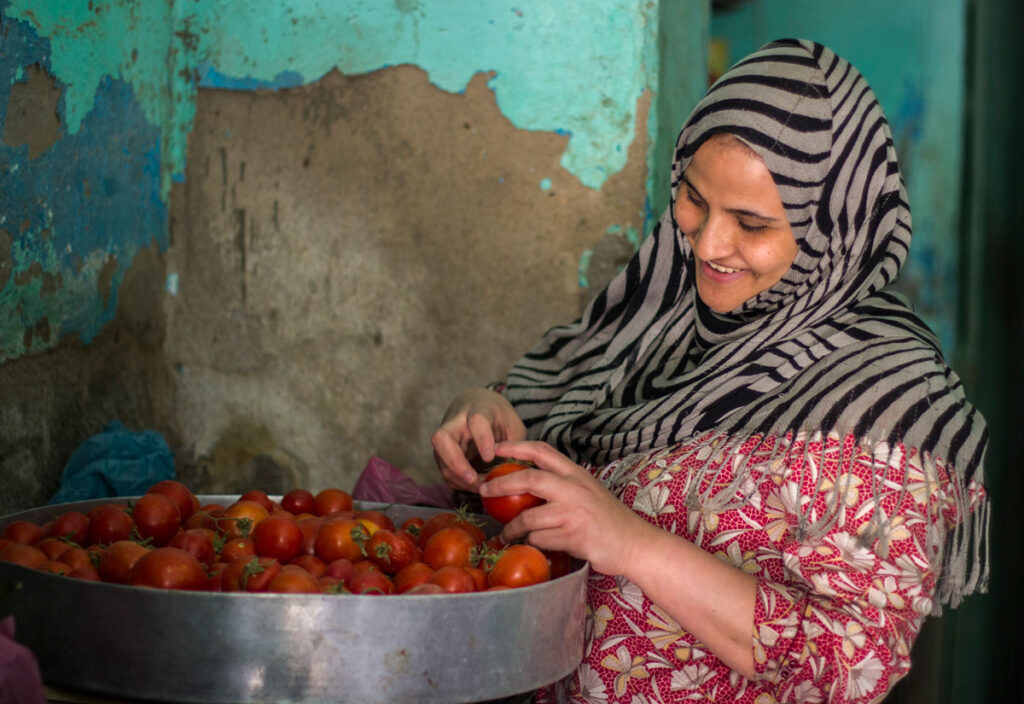 What is needed to advance poverty eradication efforts in a post-COVID world and build back better?
N: Most importantly, as we have seen from this pandemic, there needs to be a focus on enhancing self-resilience within households, so they can deal with issues/shocks independently with minimal assistance (ex. health and social awareness, how to seek assistance, who to go to, etc.). Secondly, community development associations (CDAs) play a big part in the development sector of smaller, rural communities in Egypt. They need to be better empowered to take direct and quick action, particularly during a disaster or time of need. Currently, many of them are not well prepared to take such actions. We also see personal hygiene as an ongoing issue that still needs to be addressed, particularly in Upper Egypt.
T: We are very hopeful that the Graduation approach can play a larger role in building resilience and effective pathways out of shocks like COVID-19. Some initial results from data collection from our impact study indicate that Bab Amal participants may be less negatively impacted by the pandemic due to specific program interventions around WASH, health messaging, and creating connections to emergency assistance. An overwhelming majority of this first cohort successfully completed the program and results from the study will support us in understanding how we can design the program to best address their needs.
Graduation has created a "firewall" against the negative impacts of COVID-19, particularly for women.
How have you worked with the government to support your poverty eradication efforts?
T: The government, both locally and nationally, is very interested in seeing the success of these types of programs. They would like to continue improving social protection programs nationally. The government has been running a similar program with the World Bank, and they have been consulting us to support them in adapting their program. We are awaiting official impact indicators from the first cohort, and this is something they are watching closely as it will help them determine if something like this can be scaled nationally. They are looking at our data on various aspects of the program such as, 'Is there a need for larger asset transfers?' 'Do we need even more life skills coaching and savings groups?' How should interventions be specifically adapted for Egypt?'
What role can organizations like Sawiris play in advancing efforts to eradicate extreme poverty?
N: At SFSD, we are very keen on sharing knowledge that we have learned with our partners and are committed to promoting effective altruism through focusing on and funding programs that work. The Graduation approach is one such program and we hope to share results of the impact study to support our partners in the government and other development practitioners in finding the most effective ways to reduce poverty. We also think strengthening the capacity of CDAs in villages is something that could really boost impact within the Egyptian development ecosystem. Right now, many are working strictly from as charities, providing basic assistance. This is not sustainable. They need more resources, and better data collection, analysis and learning to be more effective. They are currently not focusing on long-term impact or sustainability, so we are starting to work closely with them and the government in order to build their capacities and to bring our programs to scale. We are already seeing a change in how the CDAs operate. They are learning a lot about alternative routes to eradicate poverty.
As we ended our conversation, we came to a shared conclusion: We cherish this partnership and what we've managed to accomplish and overcome together thus far. Nahed cited what a milestone the Bab Amal program has been for Sawiris, a culmination of almost two decades of adaptation and design. The organizations and individuals involved have already learned a great deal, and the dream to scale up now feels within reach. We are eagerly looking forward to the incoming results from the first cohort of graduating participants, which we will share in the coming months.
Read more: Why We Need to Leverage CSOs in the Fight Against Poverty